Browsing articles in "Blog"
The Apostles Creed and Nicene Creed reminds us of what is truly important.  Sometimes it's easy to get distracted by so many cliches and doctrines of men but if you just focus on believing that God loved us so much that he sent his only begotten son so that you and I will possess eternal life that keeps is simple.  In addition to that great news, God wanted us to be forever comforted and guided so he sent his Holy Spirit to lead, guide, and remind us of all that Jesus said. WOW!  What a thoughtful gift!
As you listen to this recording you will hear the Nicene Creed read and a song that reminds us to believe in The Name of Jesus. Today, help someone get to KNOW Jesus by allowing them to SEE him alive in You.
Let this be a holy holiday filled with peace and good will towards others. God was willing to forgive us of our sins by sending his son to the earth. Through the same grace and power of Christ's love, let us forgive those who have caused injustices, hurt us, or even betrayals.  Give a thoughtful gift this Christmas Season.  Give grace, mercy, peace or even a fruit basket of love to someone this Christmas.
Galatians 5:22 – 23
But the Holy Spirit produces this kind of fruit in our lives: love, joy, peace, patience, kindness, goodness, faithfulness,
 23gentleness, and self-control. There is no law against these things!
Click the Link below to access Prayer With A Purpose
Today we will not be distracted by the crisis in the land nor will we
focus more on events than the
Advent of our Christ.
DISCOURAGEMENT is one of the main tools Satan uses against God's children.  The intent of the tool of discouragement is to keep you from being confident in who God said you are so that you will become unwilling to do what God has purposed and called you to do.
"You can will to be discouraged or you can determine to believe God and have victory." ~~~Dorothy Mason Weymann
If this has been your current state of life, I challenge you today to rise up and occupy [live in, be in, fill, or use] your S.P.O.T.! Take your S.P.O.T. [Season, Purpose, Opportunities, and Time] BACK!
Deuteronomy 1:21New Living Translation (NLT)
21 Look! He has placed the land in front of you. Go and occupy it as the Lord, the God of your ancestors, has promised you. Don't be afraid! Don't be discouraged!'
Today as you playback the prayer using the link below, pray with the purpose of overcoming discouragement by releasing pride, applying patience, persevering in prayer, and experiencing the peace of God.
Psalm 92 reminds us how good it is to give thanks to God.  He deserves it, He shows us steadfast, saving love & mercy, His wondrous works speaks for themselves, and Hearing us thank and praise God causes others to consider His goodness in their lives.
In researching the origination of Thanksgiving I noticed that a woman named Sarah Hale dedicated 30 years of her life to ensuring that one day was set aside to acknowledge and Thank God.  What are we dedicating our time to as it relates to God?  Take time this week, if you will, to read Abraham Lincoln's Proclamation of Thanksgiving.  Oh how I pray that we have a president of the United States again that will STAND for Jehovah God and not shift with the wind when it's convenient!
Be encouraged as it relates to all of the killing of young African American boys and men.  God will bring forth a revival of Justice in our land because people are realizing that only HE can uncover Truth, bring Justice,  and heal this land.  Our actions are simple humble ourselves by acknowledging that we NEED His intervention, ask Him for help, and turn from perversion and disobedience. THEN we will see revival in this land (2 Chronicles 7:14).  This is a promise not just a quote of scripture.
To playback the prayer for Ferguson, America, and the Season of Thanksgiving Click Here: https://www.freeconferencing.com/playback_tp.html?n=/storage/sgetFC/RBdBL/jNoND
Prayer With A Purpose Introduces Breaking Free-The Movement – It's okay to say "I'm Not Gay"
http://www.freeconferencing.com/playback_tp.html?n=/storage/sgetFC/RBdBL/jNoCw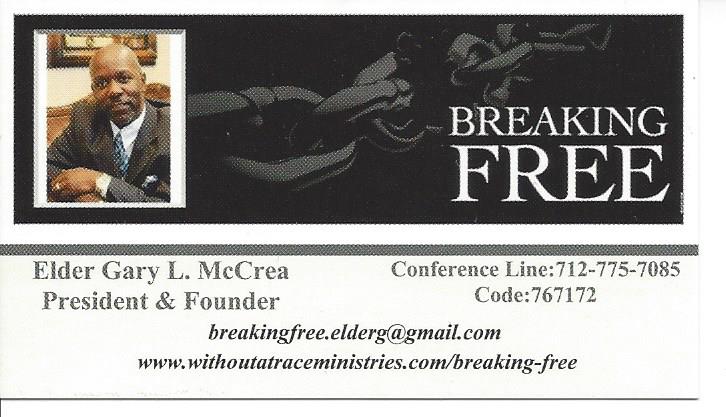 Prayer With A Purpose NEW LINK – "PRAYER FOR THOSE WHO HAVE LOST LOVED ONES"
http://www.freeconferencing.com/playback_tp.html?n=/storage/sgetFC/RBdBL/jNiqJ
Preparation For Ministry
 Click Link Below to Listen to the Broadcast
https://www.freeconferencing.com/playback_tp.html?n=/storage/sgetFC/RBdBL/jmTLy
Acts 26:16-18
Ministers Willing to Stand
But rise and stand on your feet; for I have appeared to you for this purpose, to make you a minister (servant-leader) and a witness both of the things which you have seen and of the things which I will yet reveal to you.17 I will deliver you from the Jewish people, as well as from the Gentiles, to whom I now send you, 18 to open their eyes, in order to turn them from darkness to light, and from the power of satan to the power of God, that they may receive forgiveness of sins and an inheritance among those who are sanctified by faith in Me.
What is Ministry?
The Calling of Ministry is to Enlighten, Empower, and to Equip the Believer in every good work.
The Purpose of Ministry is to convey the message of the Gospel. Ministry is the invitation to salvation, discipleship, and deliverance. It is the telling and retelling of the story of God who is at work in the lives of His people. You are a Proclaimer! Proclaim what God has done, is doing, and what He will do. You are constantly devoted to the elevating of the consciousness of God's people. The ultimate purpose is to bring forth the Truth!
The Definition of Ministry: Ministry is the work by which a servant-leader gives empowerment and enlightenment through the Word of God to a congregation of people. Ministry also gives insight and revelation as well as moral instructions as it relates to the Gospel. Ministry should be done in such a way that it does not promote religion, but rather relationship with God.
The Benefits of Ministry: Ministry gives practical and biblical applications on how to live a life that pleases God. Ministry in application form not only gives insight to new life, but also helps one develop greater character, integrity, and spiritual growth. Ministry is about community building and spiritual family strengthening. Ministry cultivates a Family of Faith!
There is a word, I want you to delete from your Vocabulary, it is Leader/Leadership, and replace it with the word SERVANT-LEADER/LEADERSHIP!
Ministers/Servant-Leaders: Spiritual Mailmen
As ministers/servant-leaders, we are spiritual mailmen… Just like real mailmen, we deliver whether rain, sleet, or snow. You bring people the mail (moral instructions/Word of God) with their name on it. What are you delivering to people? Is it just bills or are you giving hope and encouragement? Too many times, servant-leaders/spiritual mailmen are delivering mail with other people's name on it. Putting people in debt with our negative words.
Signed, Sealed, & Delivered!
Spiritual Leadership exists to positively change the way the world thinks about God. Spiritual Leadership is Beyond You- it challenges you to focus outward rather than inward. You have to be a leader worth following. No one follows a parked car… that is why you feel everyone is going around you because you have become stagnant in your ministry.
V.16 Rise & Stand on your Feet… (You Can't Do Ministry from a Seated Position) it is for this reason and this reason only that God has appeared to you and called you into the ministry. God is about to give you great revelation about the things to come in your ministry.
V.17 God is not only going to deliver you, but He is going to send you forth
V.18 to open their eyes, in order to turn them from darkness to light, and from the power of satan to the power of God, that they may receive forgiveness of sins and an inheritance among those who are sanctified by faith in Me.
Servant-Leader: a person who serves others in order to impact their lives in such a way that it invokes change. A Servant-leader is One who listens first in order to know how to lead. A Servant-leader is someone who leads and guides by example, a person who instructs, and someone who is influential that teaches and trains, and is able to submit to authority!
You cannot lead, if you have never followed anyone who is a leader…
Good servant-leaders are those who have followed first!
Joshua (servant, spy, soldier, & successor)
Have Authority because you are under Authority!
Matthew 8:8-10
There is a Process to Elevation…There is No Succession without Submission
When it comes to approach and application of leadership, do what works best, approach each situation with the heart of a servant.  Having a servant's heart is the most important thing in life as it relates to your approach and application to others. We are seeking to be leaders, but God is looking for servant-leaders. 
Servant-leaders are those who give, who impact, who enlighten, and who empower.  Servants are sometimes the forgotten leaders, the least recognized, but they have the most impact and influence because of their humbleness and willingness to serve.
Servant-leadership is the most powerful position that one can hold.  It is a position of honor that many do not seek to have, but in God's eyes, it is the greatest position. "Yet it shall not be so among you; but whoever desires to become great among you, let him be your servant… just as the Son of Man did not come to be served, but to serve, and to give His life a ransom for many" (Matthew 20:26,28).  Jesus, the Savior of the world knew that without servant-hood, there is no honor and therefore there is no change for those to whom we are called.
If you are called to someone, then first you are called to serve them.
Good servant-leaders know how to follow God and are submitted to His authority. A Good servant-leader has a good relationship with God in order to know how to lead God's people. They lead out of the knowledge, wisdom, and vision of God.
Let Go of Your Agenda and God will Give You An Anointing
You must put your needs and your own agenda aside for the sake of others for the glory of God.  What agendas do you need to lay aside, so that you can serve better?  Servant- leaders show compassion, care, and equip others so that they can be successful. Servant-leaders are not always concerned about pushing their own programs and agendas, but look to help others go to the next level in their life. Servant-leaders go beyond an outer covering or outward appearance. A Servant-leader is more concerned with the person they are influencing and leading than their own self… They look at ministry as an opportunity to invest and deposit into the life of those they are leading. A servant-leader makes time to serve, is not too deep to serve, or too cute.
A servant-leader does not mind working! More focused on others, rather than themselves. We should be mirrors, a reflection and resemblance of Christ in their life… Not a tyrant, who assumes control over a person. Servant leadership is not about control or power, but rather influence.
Servant-Leaders invest themselves into the lives of others. When we approach every situation in life in light of servant-leadership, then we surround, enclose, encircle, and bind to us those that need us the most. We make it a purposeful thing to be involved in their lives, not for recognition or even to rule, but to serve and to do so with humility.
A Servant-leader is one of action, a person who is able to teach and impart to someone else! What are you pouring and giving to others? What is inside of you that can be poured out to others? As servant leaders, we must pour, give, and impart what the people need, not what we want them to have. Give them God and he will yield the increase and deliverance in their life. We have for far too long given people waste and what they need is the word (the living water). Waste… wasteful materials, personal agendas, what they don't need, and unintentional leadership…
As servant-leaders, we must be able to see beyond where that person is now and encourage them to move forward. Help them get over the past in order to possess, their future. A servant-leader must be one who is a visionary; you have to be able to see the diamond in the rough. You have to be able to think big and wide for the people you are leading.
*Remember Joshua & Caleb, the other leaders/spies saw giants, but they saw Grapes and said, we can take the land! The others said they are giants against us, and we are only grasshoppers… You have to be able to help the people you are leading to discover their true self-identity. Servant-leaders see grapes (harvest, productivity, and a future), and not giants (the impossible)… Servant-leaders, know how to lead by faith and not by sight!
Servant-leader has to be able to CORRECT: "But, speaking the truth in love, may grow up in all things into Him who is the head—Christ— 16 from whom the whole body, joined and knit together by what every joint supplies, according to the effective working by which every part does its share, causes growth of the body for the edifying of itself in love" (Ephesians 4:15-16).
How to Prepare for Ministry:
Prepare, Build-Up, Take Out, & Lift Up the People
Isaiah 62:10
Go through, go through the gates! Prepare the way for the people; build up, build up the highway! Clear away the stones; lift up a standard for the people!
Prepare: means to make ready beforehand for a specific purpose, as for an event or occasion. All of what you are going through is making you ready for a specific purpose called Destiny. Opportunity without Preparation means Nothing! Preparation is not wasted time… is never time wasted!
I DON'T KNOW WHAT I AM CALLED TO DO?? All believers are called to the ministry of prayer, tithing, giving, and worship!
Stop Wasting Time Comparing Your Ministry to Someone Else's
2 Corinthians 10:12 For we dare not class ourselves or compare ourselves with those who commend themselves. But they, measuring themselves by themselves, and comparing themselves among themselves, are not wise.
You have to stop competing and comparing yourself with others… Ministry is not a one size fit all. The day you start comparing is the day when you waste your own ministry.
1 Corinthians 12
Spiritual Gifts: Unity in Diversity
Eye, Foot, Hand…
1 Peter 4:11 (NKJV)
11 If anyone speaks, let him speak as the oracles of God. If anyone ministers, let him do it as with the ability which God supplies, that in all things God may be glorified through Jesus Christ, to whom belong the glory and the dominion forever and ever. Amen.
1.      The Calling
Rise: Ministry is not done from a seated position. Servant-leaders know how to stand no matter what the circumstance, and even if it unpopular. Servant-leaders know how to take charge with humility. If the gap between your preaching & your living is too big, your ministry will collapse! The ministry is only as strong as the leader who totally surrenders to God.
2.      The Attitude
We have to be Fearless Sons & Daughters in order to do ministry. It is not for the weak or faint at heart. No More Nice Nasty! What have you given away lately to somebody besides a bad attitude, mean words, and ugly looks?  Give Jesus to somebody today and the gift of free salvation through witnessing His Word, showing His grace, and administering His mercy. It is Time to have A New Attitude. It is all in your Attitude; you will possess whatever God has for you when you are positive!  The power of positive thinking is the power of God.
Your Confession brings forth Your Possession!
"I have what I have, because of my attitude!"  If the circumstances around and in your life are to change, then the one common denominator, which is you, must change first.  Your Attitude – your state of mind.  The mind is the central part of who you are. The Bible declares, "As a man thinks in his heart, so is he" (Proverbs 23:7).  Thoughts are the dominating force in your being and in who you are becoming in ministry.
The thoughts of today actually carve out your path for ministry.  Your attitude in approaching every situation in life is the key to the movement and progression of your next step in ministry.  The old saying is true, "Your Attitude does determine Your Ministry Altitude."  What you think really does matter on the journey to where you are going.  There has to be control over the thoughts that are taking you nowhere in ministry!  You can change most of your life by changing your attitude about yourself, your family, marriage, career, and ministry.  A bad attitude will not take you to the wealth of your destination.  Do not act out of your emotions, rather be focused in your thoughts and this will produce a good attitude. Keep your feelings in check and not in charge. A winning attitude overshadows the emotions of feeling helpless.
3.      The Relationship of Ministry
 With God: Intimacy with God…Daily Commitment…We were designed to fellowship with God, and it is the greatest pleasure our souls will ever know on earth. Ask the Lord to draw you closer to Him. If you have been too busy or distracted to dedicate time on a daily basis, pray for the grace to make fellowship with Him a priority. Wait on the Lord, and He will fill you with incredible joy in His presence… You can only do in public what is done in private!
With Others (Liking People): Hebrews 10:24-26 (NKJV) 24And let us consider one another in order to stir up love and good works, 25not forsaking the assembling of ourselves together, as is the manner of some, but exhorting one another, and so much the more as you see the Day approaching.
4.      The Work Inside of the Church & Outside of the Church
Matthew 4:17 (NKJV)
From that time Jesus began to preach and to say, "Repent, for the kingdom of heaven is at hand."
Isaiah 61:1 & Luke 4:18-19
"The Spirit of the Lord is upon Me, Because He has anointed Me
To preach the gospel to the poor; He has sent Me to heal the brokenhearted, To proclaim liberty to the captives
And recovery of sight to the blind, To set at liberty those who are oppressed; 19 To proclaim the acceptable year of the Lord."
The 3 P's of Ministry Preparation
1st P: PASSION: A powerful emotion, Boundless enthusiasm, and the object of one's desire!
Your PASSION is your HEART!
"Does your passion line up with the will that God has for you?"  "Is your PASSION and your heart the heart and passion of God?"  "Are you a Servant-Leader after God's own heart?"
2nd P: PERSISTENCE: To hold firmly and steadfastly to a purpose, state, or undertaking despite obstacles, warnings, or setbacks.  To have tenacity! This is what DRIVES you!
The time is out for starting things in the name of the ministry, but not finishing them.
3rd P: PERFORMANCE: This is what you do and how it will help others and make a difference! To begin and carry through to completion.  To accomplish and fulfill!
YOU HAVE ENOUGH TO START
A Servant-leader sees beyond the dirt, to get to the heart of the people they are leading. The water & basin were clean during the position of the servant-leader, but once a servant-leader washes the feet of those they are leading, then the water and the basin becomes dirty with what has come off their lives. There is change that will take place when we lead as servants to those we are called to.
If you pour water on dirt then it will be cleansed in order to grow the seed that is deep in the soil… if you throw dirt on dirt, then it will never materialize into what it can be.
**He Washed their feet, not their hands (their work), not their head (mindset/thoughts), but rather their feet (their steps/destiny). 23 The steps of a good man are ordered by the Lord, And He delights in his way. 24 Though he fall, he shall not be utterly cast down; For the Lord upholds him with His hand (Psalms 37:23-24). You don't lead with your hands and mind, but rather your feet in the steps that you walk in that should be ordered by God.
What "dirty" person, has God called you to serve, but you have not yet?  Is it the homeless man you pass every day, or the person at work who doesn't look like you, or is it someone in your own household that you don't even regard?  Seek God today and ask Him, "How may I better serve you, and then how may I better serve my spouse, children, family, friends, and strangers?"
Will You Do It???
The 30-Day Marriage & Family Refocus Challenge!
GIVEAWAY WED!
We are giving away free marriage booklets.
Send your name & address to info@withoutatraceministries.com
Support Our Ministry
Recent Tweets
Resources